China Power International Development Limited
(incorporated in Hong Kong with limited liability under the Companies Ordinance)
---
Corporate Profile


China Power International Development Limited (the "Company" or "China Power") was incorporated in Hong Kong with limited liability under the Hong Kong Companies Ordinance on 24 March 2004 and is a core subsidiary for conventional energy business of State Power Investment Corporation Limited ("SPIC"), the only one integrated energy group which simultaneously owns coal-fired power, hydropower, nuclear power and renewable energy resources in the People's Republic of China (the "PRC" or "China").
The shares of the Company were listed on The Main Boards of The Stock Exchange of Hong Kong Limited (the "Hong Kong Stock Exchange") on 15 October 2004. The stock code is 2380. The Company's principal business is to develop, construct, own, operate and manage large power plants in the PRC.
Existing Power Plants
As at 31 December 2017, the Company and its subsidiaries (collectively, the "Group" or "We") owned and operated the power plants as follows:
Coal-fired Power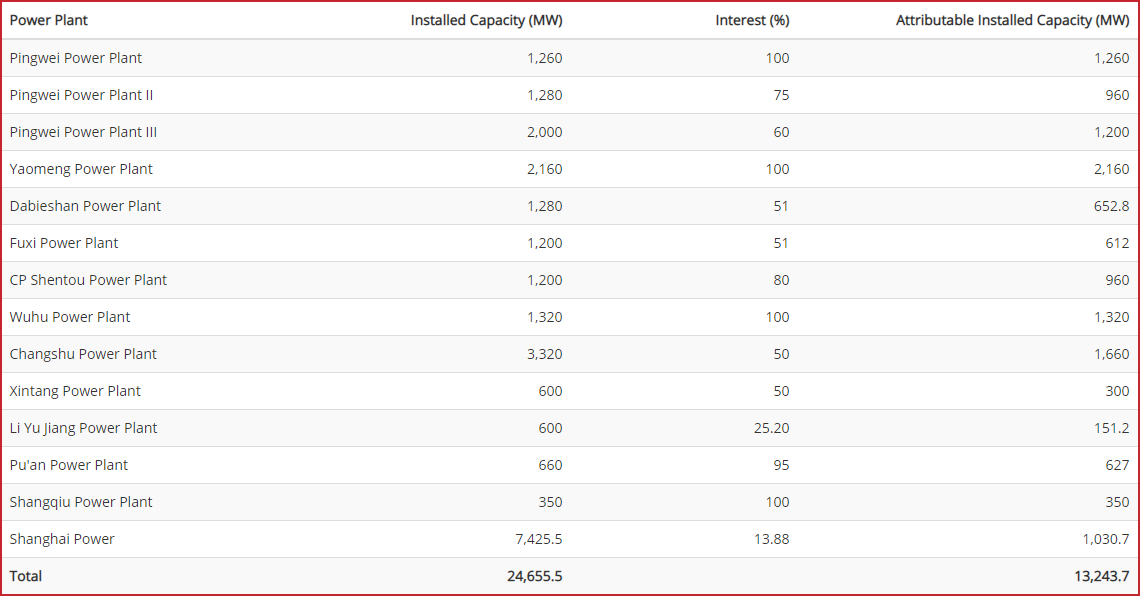 Hydropower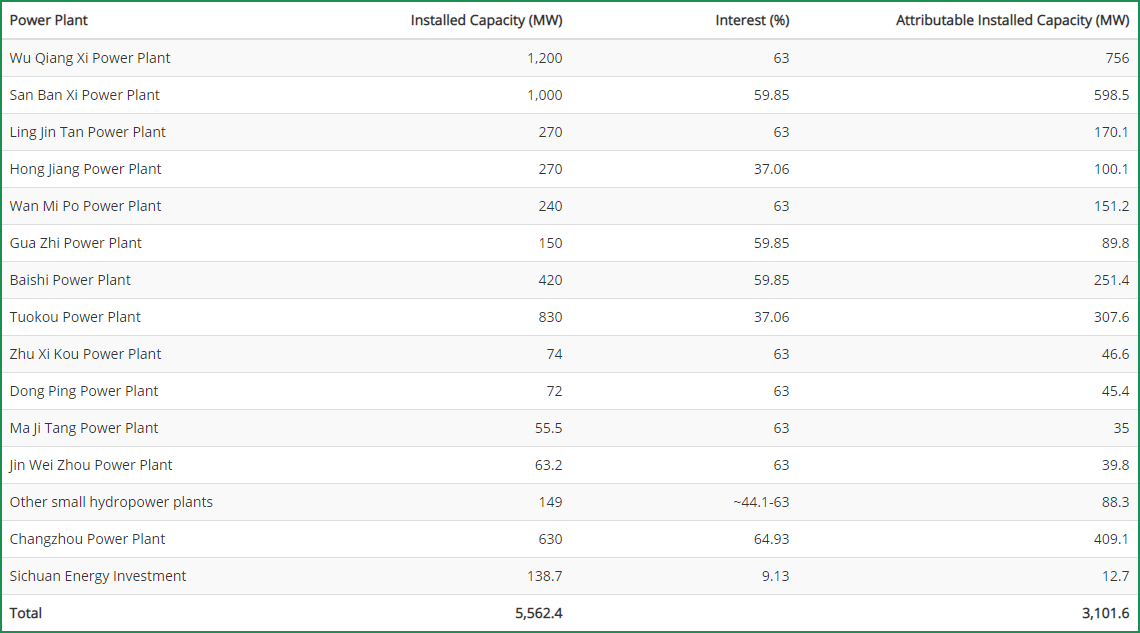 Wind Power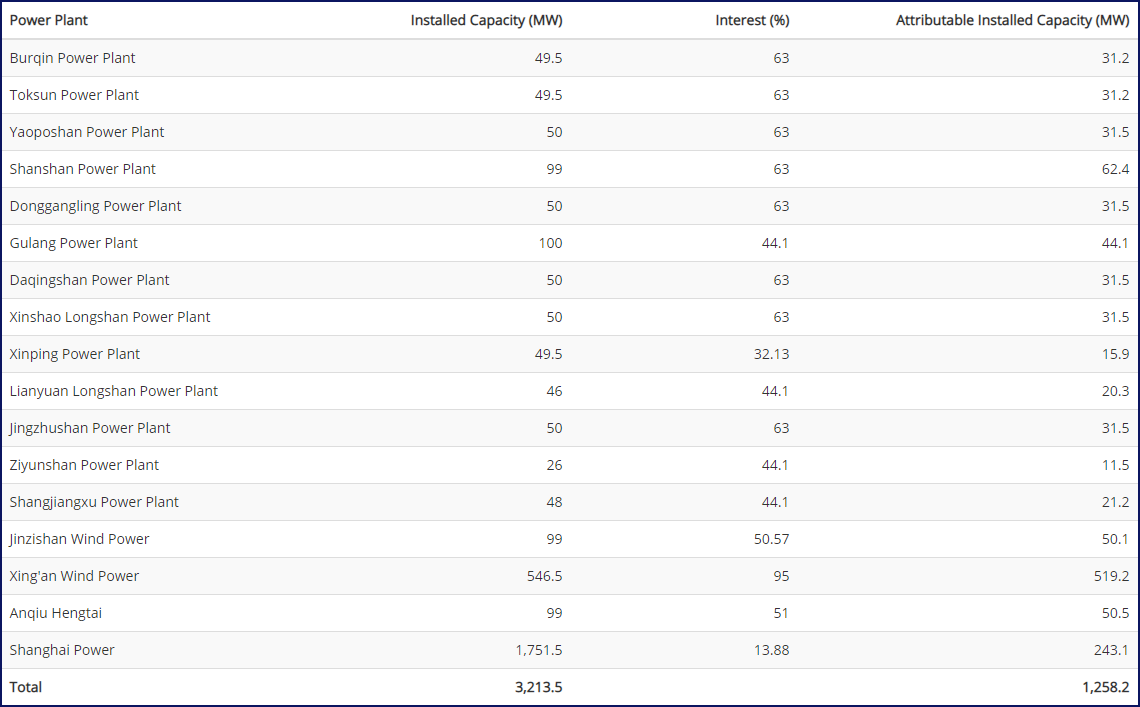 Photovoltaic Power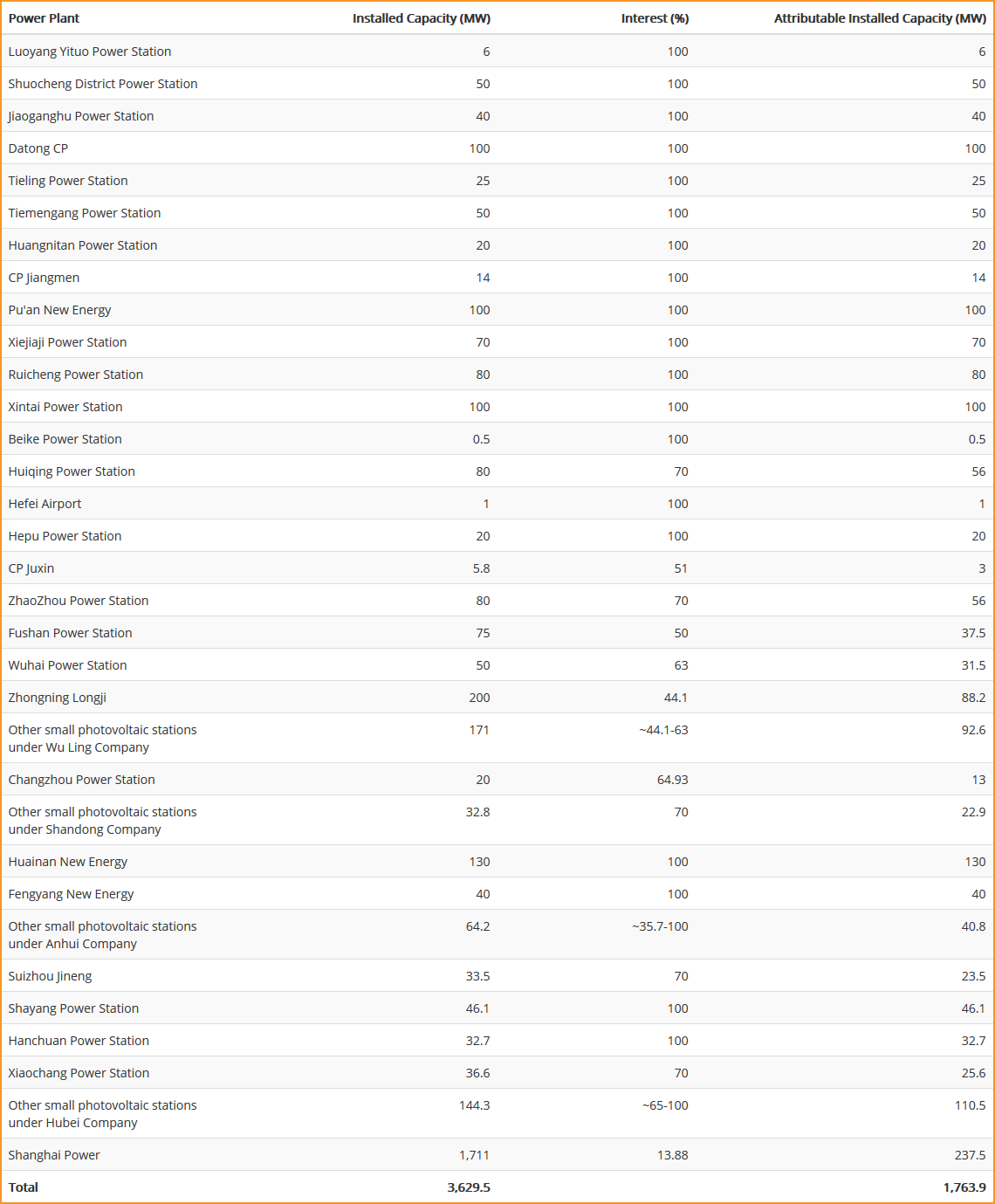 Natural Gas Power

As at 31 December 2017, the Group's total attributable installed capacity was 17,051.6MW, of which attributable installed capacity of clean energy was 4,695.9MW, accounting for 27.54% of all attributable installed capacity.
Projects under Construction
As at 31 December 2017, the Group's projects under construction are as follows: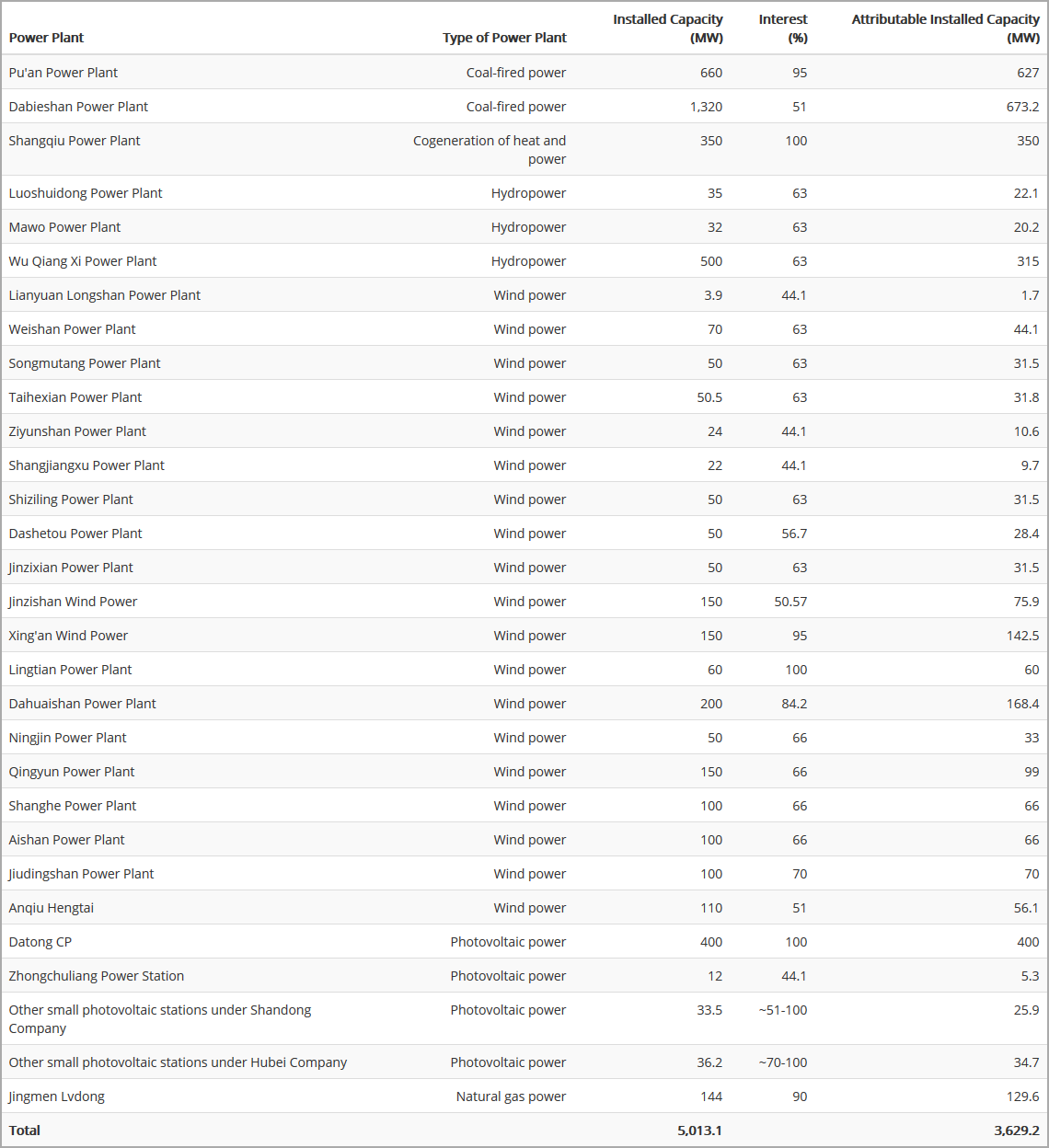 New Development Projects
As at the date of this annual report, the total installed capacity of new projects in a preliminary development stage (including projects which the approvals from government of the PRC have been applied for) is approximately 4,500MW. The categories are distributed as follows:

Ultimate Controlling Company - SPIC
The Company is ultimately owned by SPIC, a wholly State-owned enterprise established by the approval of the State Council of the PRC. The business of SPIC includes power, coal, aluminum, logistics, finance, environmental protection and high-tech industries, etc. with a total installed capacity of approximately 126GW.
updated 10th July, 2018
---
---
© Copyright 1996-2019 irasia.com Ltd. All rights reserved.
DISCLAIMER: irasia.com Ltd makes no guarantee as to the accuracy or completeness of any information provided on this website. Under no circumstances shall irasia.com Ltd be liable for damages resulting from the use of the information provided on this website.
TRADEMARK & COPYRIGHT: All intellectual property rights subsisting in the contents of this website belong to irasia.com Ltd or have been lawfully licensed to irasia.com Ltd for use on this website. All rights under applicable laws are hereby reserved. Reproduction of this website in whole or in part without the express written permission of irasia.com Ltd is strictly prohibited.
TERMS OF USE: Please read the Terms of Use governing the use of our website.