Heng Tai Consumables Group Limited
(Incorporated in the Cayman Islands with limited liability)
---
Corporate Profile

Our Mission & Core Values
"Our Mission is to achieve excellence and market leadership through effective interweaving of our Group's Core Values, leveraging the strength of the Company's resources to become an indispensable business platform."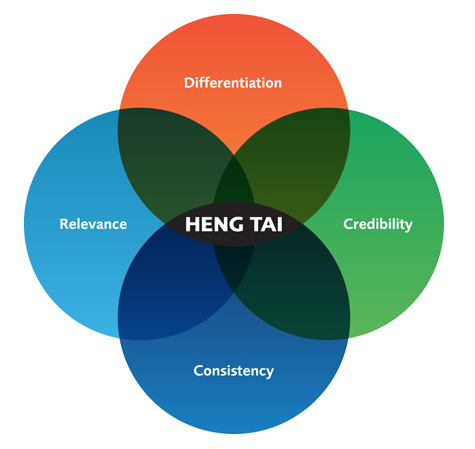 Our four Core Values are interlinked in a way that defines "Heng Tai" :
Differentiation - Refers to how we stand apart from our peers in the market, both with regards to our product, services, and in our ability to deliver value to all stakeholders;
Relevance - We understand our position in the market, what our target market is looking for, and the importance of meeting our commitments;
Credibility - Over 25 years of dependable service has built a high level of trust and goodwill which we will maintain into the future;
Consistency - Our track record speaks for itself. Both consistent with product & service quality, as well as corporate growth & financial performance.
Company Businesses
Heng Tai Consumables Group Limited ("Heng Tai" or the "Company") is a Cayman Islands company listed on the Main Board of the Stock Exchange.
Founded by the current Chairman, Mr Lam Kwok Hing, the Company has been operating in the Consumer Market & Food industry in Greater China for over 25 years. Following the Company's initial public offering in 2001, we have diversified from just trading fast moving consumer goods ("FMCG") into logistics (primarily cold chain logistics in support of the core business), the trading of fresh fruits and vegetables, fresh fruit and vegetable handling and processing, and agriculture.
We are headquartered in Hong Kong with two major logistics hubs in Shanghai and Zhongshan and various supportive depots in other cities, as well as a wide spread geographical reach across China through our numerous partnerships with local and provincial operators. Coupled with a robust PRC network is our global procurement capability. Our global relationships allow us to source from almost anywhere in the world. We currently import products from North America, Europe, South East Asia, and Australasia.
We pride ourselves on our professionalism and our uncompromising commitment to delivering high quality products at great value to our target market. All our facilities are properly licensed and are operated according to the highest standards of practice.
The Company adheres to the highest standards of management and quality control and holds certification for such practices through ISO9001:2008 and HACCP.
FMCG Trading Business:
Viewed as a "One-Stop Service Platform", our FMCG Trading Business not only brings consumer products into the Chinese Consumer Market. We provide a complete end-to-end service to brand owners wishing to enter the PRC Market. We currently sell Food and Consumer Products to over 500 different wholesale, retail, and on-premise customers across China including regional wholesalers, top hypermarket chains, 5-Star hotel groups, and top tier restaurants. We represent high quality products from five major consumer product categories being packaged foods, beverages, household consumer products, cosmetics, and cold chain products.
Agri-Products Business:
The Agri-Products Business is quickly evolving into a Vertically Integrated Supply Chain encompassing: Up-stream Cultivation, Mid-Stream Handling and Processing, and Down-Stream Trading. The Company has developed its farmland reserve in Jiangxi and Huidong over the years, producing a wide range of fruits, leafy and non-leafy vegetables and Chinese herbs.
Logistics Services Business:
Our logistics business is the backbone of the Company's two supply chains. This established infrastructure has hubs in Shanghai, and Zhongshan, and various supportive depots in other cities. These premises provide cold-chain facilities, warehousing, food processing facilities for fresh fruits and vegetables, as well as cross-border trucking fleets for nationwide and regional distribution.
For more in depth information, please refer to "Our Businesses" section in our website.
Operations Network Coverage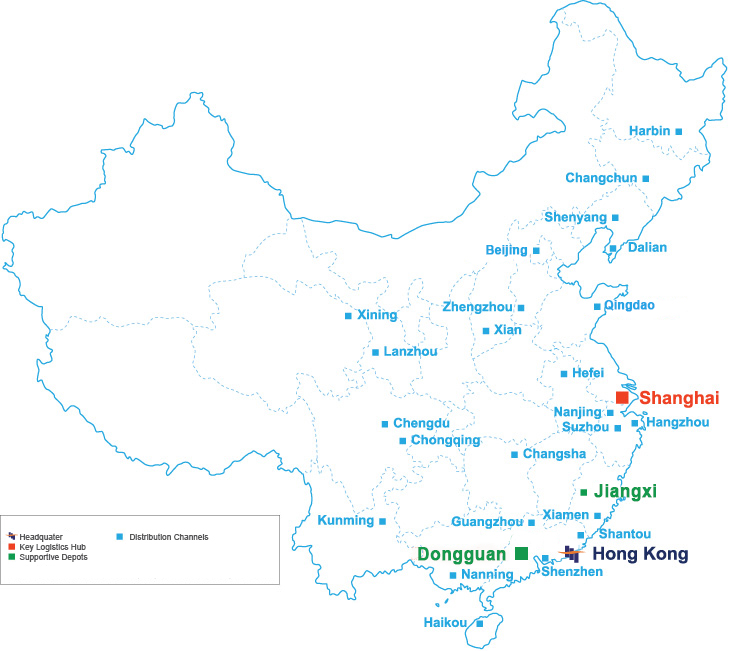 updated 30th December, 2013
---
---
© Copyright 1996-2018 irasia.com Ltd. All rights reserved.
DISCLAIMER: irasia.com Ltd makes no guarantee as to the accuracy or completeness of any information provided on this website. Under no circumstances shall irasia.com Ltd be liable for damages resulting from the use of the information provided on this website.
TRADEMARK & COPYRIGHT: All intellectual property rights subsisting in the contents of this website belong to irasia.com Ltd or have been lawfully licensed to irasia.com Ltd for use on this website. All rights under applicable laws are hereby reserved. Reproduction of this website in whole or in part without the express written permission of irasia.com Ltd is strictly prohibited.
TERMS OF USE: Please read the Terms of Use governing the use of our website.