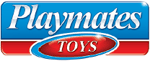 Playmates Toys Limited
(Incorporated in Bermuda with limited liability)
---
Corporate Profile

With a history of over 40 years, Playmates Toys is among the most well respected and innovative marketing and distribution companies in the global toy industry with a proven heritage in the creation of original and imaginative products as well as the development and management of profitable, long-term brand franchises. From its offices in Hong Kong, China, and the United States, Playmates Toys designs, develops and markets its products which are distributed in over 80 countries worldwide.
The parent company of the group, Playmates Toys Limited (HKEX: 869), is a company listed on the Hong Kong Stock Exchange.
updated 24th June, 2010
---
---
© Copyright 1996-2018 irasia.com Ltd. All rights reserved.
DISCLAIMER: irasia.com Ltd makes no guarantee as to the accuracy or completeness of any information provided on this website. Under no circumstances shall irasia.com Ltd be liable for damages resulting from the use of the information provided on this website.
TRADEMARK & COPYRIGHT: All intellectual property rights subsisting in the contents of this website belong to irasia.com Ltd or have been lawfully licensed to irasia.com Ltd for use on this website. All rights under applicable laws are hereby reserved. Reproduction of this website in whole or in part without the express written permission of irasia.com Ltd is strictly prohibited.
TERMS OF USE: Please read the Terms of Use governing the use of our website.