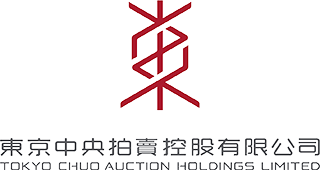 (incorporated in Hong Kong with limited liability)
---
Corporate Profile

Tokyo Chuo Auction Holdings Limited ("Tokyo Chuo Auction" or the "Group", stock code: 1939.HK) was established in 2010. It is one of the leading auction houses of Chinese and Japanese artworks in Hong Kong and Japan. The Group specializes in auctioneering a wide variety of artworks with emphasis on Chinese and Japanese artworks, including Chinese paintings and calligraphies, Chinese antiques and Japanese and Chinese tea wares. In 2017, Tokyo Chuo Auction ranked second and fifth among all auction houses in Japan and Hong Kong respectively in terms of the transaction value from the Chinese art auction business.
With over seven years of operating experience in the Chinese and Japanese art auction industry, Tokyo Chuo Auction has strong ability in sourcing and dealing with high quality artworks, conducting stringent authentication and valuation measures, as well as providing quality-services with strong marketing techniques, which has turned the Group into a well-recognized and trusted auction brand in Hong Kong and Japan.
Tokyo Chuo Auction is well-recognized by its customers for the high quality of auctioned artworks and the auction services provided. The Group has also implemented a comprehensive internal control and risk management system to provide great supports in maintaining effective business operations.
Tokyo Chuo Auction, being an auction house with the strong ability to explore and introduce the historical and cultural significance as well as the commercial value of each artwork, we are proud of it.
updated 9th October, 2018
---
---
© Copyright 1996-2022 irasia.com Ltd. All rights reserved.
DISCLAIMER: irasia.com Ltd makes no guarantee as to the accuracy or completeness of any information provided on this website. Under no circumstances shall irasia.com Ltd be liable for damages resulting from the use of the information provided on this website.
TRADEMARK & COPYRIGHT: All intellectual property rights subsisting in the contents of this website belong to irasia.com Ltd or have been lawfully licensed to irasia.com Ltd for use on this website. All rights under applicable laws are hereby reserved. Reproduction of this website in whole or in part without the express written permission of irasia.com Ltd is strictly prohibited.
TERMS OF USE: Please read the Terms of Use governing the use of our website.