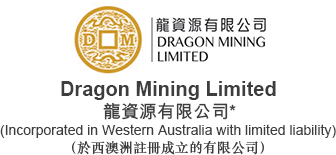 * for identification purpose only
---
Corporate Profile

Dragon Mining Limited ("The Company") is principally engaged in gold exploration, mining, and processing in the Nordic region. The Company's objective is to focus on the development of existing and new mining assets in reasonable proximity to our process plants in Vammala, Finland and Svartliden, Sweden. The Company operates with a long-term business strategy to operate responsibly considering the interests of all stakeholders including its staff, contractors, and the public including civic groups, together with the environment and the general amenity of its areas of operation. It aims to produce positive financial outcomes through (i) the economic operations of its operating mines and process plants; (ii) development of new projects consistent with the Company's objective, such as the Group's newest operations at Fäboliden; and (iii) attention to the Company's corporate and social responsibilities, including a focus on ongoing safety and environmental compliance, and ongoing positive interaction with the communities within which it operates.
updated 21st September, 2023
---
---
© Copyright 1996-2023 irasia.com Ltd. All rights reserved.
DISCLAIMER: irasia.com Ltd makes no guarantee as to the accuracy or completeness of any information provided on this website. Under no circumstances shall irasia.com Ltd be liable for damages resulting from the use of the information provided on this website.
TRADEMARK & COPYRIGHT: All intellectual property rights subsisting in the contents of this website belong to irasia.com Ltd or have been lawfully licensed to irasia.com Ltd for use on this website. All rights under applicable laws are hereby reserved. Reproduction of this website in whole or in part without the express written permission of irasia.com Ltd is strictly prohibited.
TERMS OF USE: Please read the Terms of Use governing the use of our website.