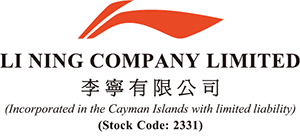 ---
Corporate Profile

Li Ning Company Limited is one of the leading sports brand companies in China, mainly operating professional and leisure footwear, apparel, equipment and accessories under the LI-NING brand. Headquartered in Beijing, the Group has brand marketing, research and development, design, manufacturing, distribution and retail capabilities. It has established an extensive retail distribution network and supply chain management system in China. We are committed to becoming an internationally-renowned enterprise of Chinese origin featuring world-class professional sports brand with fashion attributes.
In addition to its core LI-NING brand, the Group also manufactures, develops, markets, distributes, sells various sports products which are self-owned by or licensed to the Group, including Double Happiness (table tennis), AIGLE (outdoor sports), Danskin (fashionable fitness products for dance and yoga) and Kason (badminton), which are operated through joint venture/associate with third parties of the Group.
updated as per Annual Report 2021
---
---
© Copyright 1996-2022 irasia.com Ltd. All rights reserved.
DISCLAIMER: irasia.com Ltd makes no guarantee as to the accuracy or completeness of any information provided on this website. Under no circumstances shall irasia.com Ltd be liable for damages resulting from the use of the information provided on this website.
TRADEMARK & COPYRIGHT: All intellectual property rights subsisting in the contents of this website belong to irasia.com Ltd or have been lawfully licensed to irasia.com Ltd for use on this website. All rights under applicable laws are hereby reserved. Reproduction of this website in whole or in part without the express written permission of irasia.com Ltd is strictly prohibited.
TERMS OF USE: Please read the Terms of Use governing the use of our website.