NewOcean Energy Holdings Limited
(Incorporated in Bermuda with limited liability)
---
Financial Highlights


Audited Results for the Year Ended 31 December 2018
Total sales volume of energy products increased by around 5.65% to approximately 6,601,000 tons. The revenue from operations for the year also increased by approximately 36.04% to approximately HK$30 billion reflecting the increase in sale volume and the substantially high price for energy products compared with last year.
The overall gross profit margin dropped from around 7.36% in 2017 to around 6.55% in 2018 because the fluctuation in the international oil price has made the gross profits of oil products thinner during the year. Given that the sales increased, the overall gross profit increased by approximately 21.09% to approximately HK$1,967 million.
Although the overall gross profit increased, the depreciation of Renminbi in 2018 recorded a net exchange loss of approximately HK$124 million and due to the sharp fall of oil price at December end, the Group has provided a net realizable value allowance on inventories of HK$120 million. Thus, profit for the year attributable to owners of the Company from operations decreased by around 9.17% to approximately HK$759 million.
Basic earnings per share from operations is approximately HK$0.52.
Equity attributable to owners of the Company increased by around 7.96% to approximately HK$7,465 million.


Financial Summary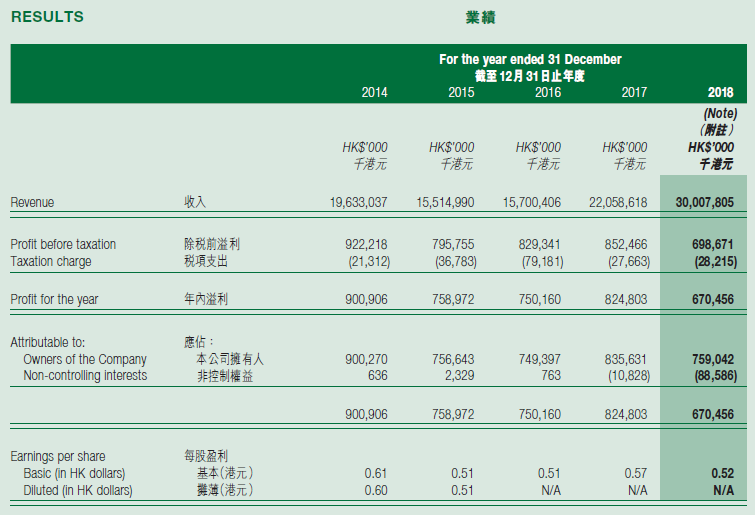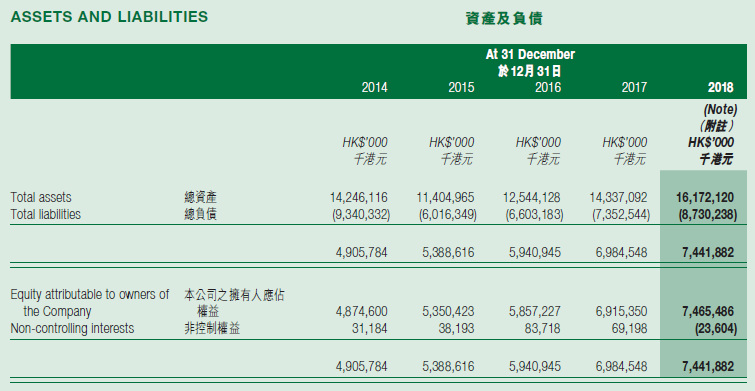 updated 24th May, 2019
---
---
© Copyright 1996-2022 irasia.com Ltd. All rights reserved.
DISCLAIMER: irasia.com Ltd makes no guarantee as to the accuracy or completeness of any information provided on this website. Under no circumstances shall irasia.com Ltd be liable for damages resulting from the use of the information provided on this website.
TRADEMARK & COPYRIGHT: All intellectual property rights subsisting in the contents of this website belong to irasia.com Ltd or have been lawfully licensed to irasia.com Ltd for use on this website. All rights under applicable laws are hereby reserved. Reproduction of this website in whole or in part without the express written permission of irasia.com Ltd is strictly prohibited.
TERMS OF USE: Please read the Terms of Use governing the use of our website.