Swire Pacific Limited
---
PRESS RELEASE
Swire Pacific Limited
1997 Final Results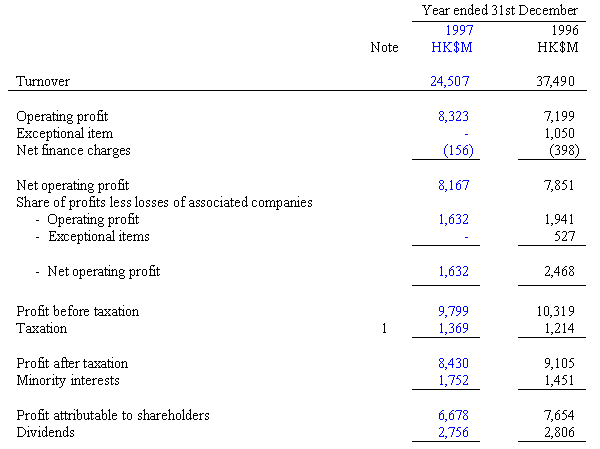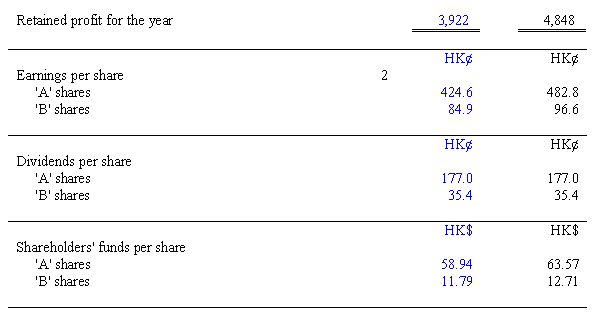 Notes:
1) Taxation


Hong Kong profits tax is calculated at 16.5% (1996: 16.5%) on the estimated assessable profits each year. Overseas taxation is calculated at rates of tax applicable in countries in which the Group is assessed for tax.
2) Earnings per share
Earnings per share are calculated by dividing the profit attributable to shareholders for the year of HK$6,678 million (1996: HK$7,654 million) by the weighted average number of 958,898,011 'A' shares and 3,068,496,011 'B' shares in issue during the year (1996: 970,009,385 'A' shares and 3,076,706,271 'B' shares).
Principal activities
The Company and its subsidiaries: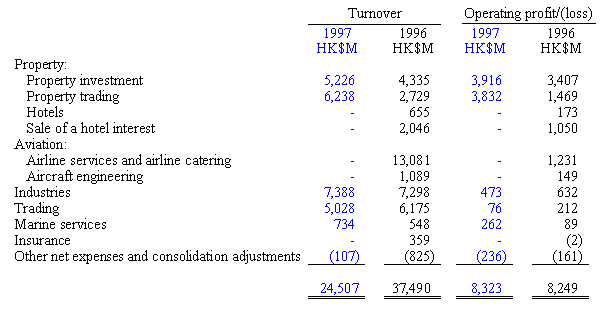 Associated companies: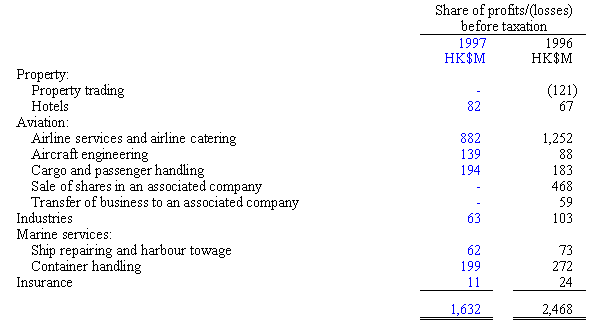 An analysis of Group attributable profit by division is as follows:


Dividends
The Directors recommend the payment of final dividends for 1997 of HK¢130.0 per 'A' share and HK¢26.0 per 'B' share which, together with the interim dividends paid on 3rd October 1997 of HK¢47.0 per 'A' share and HK¢9.4 per 'B' share, make total dividends for the year of HK¢177.0 per 'A' share and HK¢35.4 per 'B' share, being the same as those for 1996. This represents a total distribution for the year of HK$2,756 million. Subject to the approval of the 1997 final dividends by the shareholders at the annual general meeting on 14th May 1998, it is expected that those dividends will be paid on 2nd June 1998 to shareholders registered on 14th May 1998. The share registers will be closed from 11th May 1998 to 14th May 1998, both dates inclusive.
Share capital
During the year under review, Swire Pacific Limited purchased 29,897,500 of its 'A' shares and 17,405,000 of its 'B' shares on the Hong Kong stock exchange. These purchases were made as a result of a fall in the price of both 'A' and 'B' shares. All the shares purchased were cancelled.
Year 2000
The Group has initiated a compliance programme to tackle the year 2000 issue whereby the two-digit year representation in computer systems can potentially cause exposures due to '00' being treated as '1900' instead of '2000', thus causing systems to malfunction. A review of the Group's computer systems is being conducted to identify those areas that could be affected by the year 2000 issue and appropriate measures will be undertaken to ensure that the computer systems in use within the Group are 'year 2000 compliant'. Cathay Pacific aims to achieve year 2000 compliance for all key computer systems by the end of 1998 and the Group overall is aiming to achieve such compliance for all systems within 1999. A detailed project plan has been developed to support conversion and implementation of relevant systems. It is anticipated that the year 2000 issue will not pose significant operational problems and that expenditures associated with year 2000 compliance will not be material.
Corporate governance
The Company has complied throughout the year with the Code of Best Practice as set out in the Listing Rules.
Movements on reserves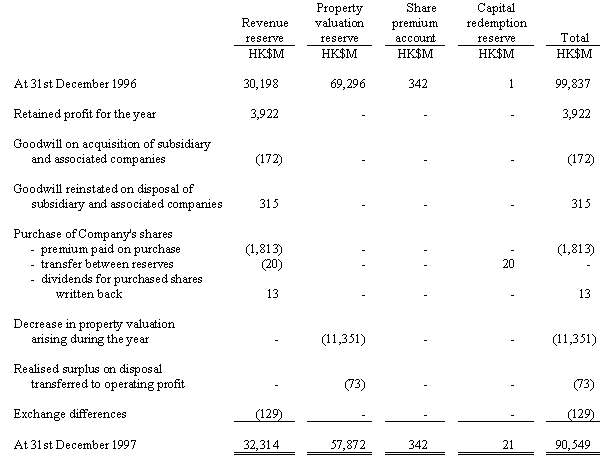 The 1997 valuation at open market value of the Group's investment properties, both completed and under development, was HK$82,144 million. This valuation resulted in a decrease of HK$11,351 million in the Group's property valuation reserve. Taking into account the retained earnings and the decrease in the valuation of investment properties, the net asset value of the Swire Pacific Group at 31st December 1997 was HK$91,480 million, a 9.2% decrease on the prior year.
Capital Resources & Liquidity
Swire Pacific's total shareholders' funds amounted to HK$91,480 million at the end of 1997, compared with HK$100,788 million at the end of 1996.
As at 31st December 1997 the Swire Pacific Group's net liquid funds totalled HK$2,961 million. These comprised cash deposits of HK$4,521 million less bank and other short-term borrowings of HK$1,560 million.
An analysis of the Group's net borrowings by currency at 31st December 1997, including the US$600 million Perpetual Capital Securities issued, is shown below:

Sources of Finance
At 31st December 1997, committed loan facilities and other financing in place amounted to HK$21,716 million of which 22% remained undrawn. In addition, there were uncommitted facilities undrawn at year-end amounting to HK$2,810 million. Sources of funds at the end of 1997 comprised:

Maturity Profile
It is Group policy to secure adequate funding so as to match cash flows associated with both current and planned investments. The maturity profile of the Group's gross borrowings at 31st December 1997 is set out below:

Interest Rate Profile
In addition to raising funds on a fixed rate basis, the Group uses interest rate swaps and other instruments where appropriate in the management of its interest rate profile. At 31st December 1997, 46% of the Group's gross borrowings were on a floating rate basis and 54% were on a fixed rate basis.
Interest Cover and Gearing
Cash interest cover for the year ended 31st December 1997, calculated by reference to total interest charges including those capitalised, was 7.74 times and the gearing ratio was 0.14/1 at the end of 1997.
Chairman's Statement
The Group profit attributable to shareholders for 1997 was HK$6,678 million, a decrease of 12.8% from that of the previous year. This reflects significantly lower profits from the aviation division, offset in part by strong results from Swire Properties. If the exceptional items in 1996, amounting in aggregate to HK$1,577 million, are excluded, the attributable recurring profits increased by 9.9%.
Dividends
Interim dividends of HK¢47.0 per 'A' share and HK¢9.4 per 'B' share were declared on 7th August 1997; directors have recommended final dividends for 1997 of HK¢130.0 per 'A' share and HK¢26.0 per 'B' share. The total distribution per share paid and proposed for 1997 is the same as that for 1996. Subject to approval by shareholders, dividend payments will be made on 2nd June 1998.
Hong Kong
It is now nearly nine months since the establishment of the Hong Kong Special Administrative Region. The policy of "one country, two systems" has operated extremely smoothly and China's leaders continue to reaffirm their commitment to Hong Kong's high degree of autonomy, stability and prosperity.
Property Division
The property market in Hong Kong continued to strengthen in the first half of 1997 following the sharp recovery in 1996, and both capital values and rentals showed further increases. As a consequence, the division enjoyed good growth in profits from both the investment property portfolio and the sale of development properties. However, in the latter part of the year the market was severely impacted by turmoil in Asian economies and speculative moves against the Hong Kong dollar which led to higher interest rates in Hong Kong, and planned further sales of development properties did not eventuate.
Swire Properties continues to expand its high-quality investment property portfolio in Hong Kong. Two further office towers are under construction at TaiKoo Place and two office towers will be built on a recently assembled site in Wanchai, just to the east of Pacific Place. Festival Walk, a significant retail and commercial complex, is being constructed adjacent to the Kowloon Tong KCRC/MTRC interchange station. The retail element of this development is already substantially pre-let and is expected to open in October.
The company has a number of development projects completed and in progress but the high interest rates in Hong Kong have dampened sentiment and price levels thus slowing down sales. During the year the company, in a joint venture with Sun Hung Kai Properties Limited, acquired a 98% interest in a site at Tseung Kwan O with development potential for over four million square feet of residential accommodation which will be constructed over a five-year development programme.
Aviation Division
Cathay Pacific encountered extremely difficult market conditions in 1997. The year started well in what had been expected to be a good period for tourism to Hong Kong but a combination of factors during the lead up to the handover of Hong Kong to China created a negative impression of Hong Kong, resulting in a severe downturn in tourist arrivals. Conditions worsened later in the year with the turmoil in Asian economies and the devaluation of many Asian currencies in which the airline earns its revenues. Consequently, Cathay Pacific suffered a sharp decline in both passenger load factors and yields in the second half of the year. Although cargo services performed well, with an increase in load factors, and the company continued to make good progress in controlling costs and improving efficiency, there was a significant reduction in profitability for the year.
It has recently been decided to remove from service five Boeing 747-200 aircraft in order to better match capacity and demand.
HAECO's profit, excluding the exceptional item recorded in 1996, showed a small decline although there were good contributions from Taikoo (Xiamen) Aircraft Engineering Company and Hong Kong Aero Engine Services, HAECO's associated companies engaged in heavy airframe maintenance and engine overhaul respectively. The volume of line maintenance work in Hong Kong continued to grow but margins remained under pressure.
Dragonair had another good year increasing both its fleet and its route network, whilst Air Hong Kong enjoyed the buoyant air cargo market in 1997. The airline catering businesses performed well although the Hong Kong business suffered from the downturn in traffic. Other companies in the aviation division achieved satisfactory results.
Industries Division
Swire Beverages, the major part of the industries division, experienced difficult trading conditions in 1997 which severely affected the division's results. Swire Beverages' Coca-Cola operations in Hong Kong were heavily influenced by adverse weather conditions in the summer which depressed beverage consumption. Significant progress was made in the construction of further Coca-Cola bottling plants in Mainland China and in expanding the distribution system; although there was significant volume growth, margins were lower than budgeted. Margins in the USA were also below expectations due to increased price competition.
Other companies within the industries division reported mixed results in 1997. The Carlsberg brewery and the aluminium beverage can businesses in particular experienced difficult trading conditions as a result of intense competition and over capacity. The Swire BFI waste management business had a good year.
Trading Division
The motor vehicle distribution business was expanded in 1997 with the acquisition of the Volvo distributorship in Hong Kong and most of Mainland China. However, weak consumer demand in Taiwan continued to depress volumes and margins.
Whilst the division's other agency operations performed creditably during the year, the retail sportswear business was severely affected, in common with much of the retail market in Hong Kong, by the economic conditions in the region in the latter part of the year.
Marine Services Division
Strong demand for offshore support vessels led to higher utilisation and charter rates for Swire Pacific Offshore's fleet, resulting in increased profits which were enhanced further by the sale of a craneship. Three of the four vessels ordered in 1996 were delivered during the year and a further two sister ships were ordered for delivery in 1998. Subsequent to the year-end, another four smaller vessels have been ordered.
The contribution from the division's associated companies was lower, mainly because a 15 month accounting period had been included for Modern Terminals in 1996 due to a change in the company's year-end. The depressed state of the international ship repair business adversely impacted Hongkong United Dockyards' results.
Finance
During the year, the Company undertook a share buy-back exercise and purchased for cancellation some 29.9 million 'A' shares and 17.4 million 'B' shares at an overall cost of HK$1,833 million. At 31st December 1997, consolidated net borrowings, including US$600 million Perpetual Capital Securities, amounted to HK$12,944 million which, when related to shareholders' funds and minority interests totalling HK$95,830 million resulted in a gearing ratio of 0.14/1. The increase in the gearing ratio over that at 31st December 1996 reflects increased borrowings in 1997 and a reduction in the valuation of the Group's investment properties at the end of the year.
Year 2000
The Group is addressing the Year 2000 software issue, a problem being faced by businesses world-wide which, if left unsolved, could result in companies facing significant operational and other difficulties. Appropriate steps are being taken in all Group companies, with professional guidance, to ensure that this issue will not pose a threat to their operations.
Community Relations
During 1997, Swire Pacific continued to focus its support on charities which help under-privileged members of the Hong Kong community. These included the Community Chest, the Hong Kong Association for the Mentally Handicapped and Outward Bound. The Group has also continued its support for the flying eye hospital, Project Orbis.
As in previous years, Swire Pacific has been strong in its support for educational projects. Prominent amongst these is the Life Education Activity Programme (LEAP), which combats drug addiction in young people by bringing specially-equipped mobile classrooms into Hong Kong's schools.
For Hong Kong to continue to flourish as a successful international business centre, it is vital that a good standard of English is maintained. The Group has therefore continued to support the Community English Language Laboratory (CELL), a free facility which offers a valuable resource to those who wish to improve their spoken English. In 1997, the Swire Group Charitable Trust also agreed funding for the Chinese Civilisation Education Trust, which seeks to promote the development of research into Chinese civilisation.
Environment
The Group takes a proactive stance on environmental issues and its Environmental Policy provides guidelines to ensure that its operations are ahead of statutory requirements in this area. During 1997, a number of Group companies carried out environmental audits.
Towards the end of the year, Swire Properties' latest commercial development, Lincoln House at TaiKoo Place, became the first building in Hong Kong to achieve an "excellent" rating under the Hong Kong Building Environmental Assessment Method. Lincoln House combines optimum environmental conditions in the workplace with minimum impact upon its environment. Substantial reductions in energy consumption and carbon dioxide emissions have been achieved through innovative design features.
Swire Pacific is a founder member of Hong Kong's Private Sector Committee on the Environment. By continuing to fund the Swire Institute of Marine Science it also contributes to local environmental research and the preservation of Hong Kong's natural heritage. The Group actively promotes environmental awareness amongst its staff, their families and the community at large.
Staff
The Group employs over 60,000 staff. They have worked very hard in what became particularly difficult conditions during the latter part of the year. In such circumstances, the results for the year are a creditable acknowledgement of their efforts, and on behalf of shareholders, I would like to thank them for their valuable contribution to the success of the Group.
Prospects
In the present economic climate there is likely to be some downward pressure on rental levels as rents come up for review and new leases are entered into. This will affect the Group's properties being completed in 1998 but the impact on the existing property portfolio is expected to be limited, since it is substantially fully let and relatively few rent reviews or lease renewals are due in 1998. Property trading activity will be at a lower level than in 1997 in terms of volumes, and prices are also expected to be well down from last year's levels.
Cathay Pacific has been severely affected not only by the downturn in Hong Kong tourism and lower levels of travel within the region, but additionally by the devaluation of regional currencies in which much of its revenue is earned. The outlook remains poor both in terms of traffic volumes and yields. The airline is taking steps to improve productivity and reduce costs where it can. The move to Hong Kong's new airport at Chek Lap Kok will result in additional costs for all companies moving there, although in the longer term there will be significant benefits.
After a period of some consolidation within the industries division, particularly in Mainland China, I expect to see benefits beginning to come through in 1998 in the Coca-Cola operations although other businesses still face considerable challenges. The trading division's results will continue to be influenced by the level of economic activity in the region. The marine services division should perform well.
The latter part of 1997 was a disappointing period for almost all of the Group's operations and, with the further deterioration in business conditions that we have already seen this year, 1998 will undoubtedly be a very difficult year. Nevertheless, the Group remains in good financial condition and is well placed to take full advantage of any upturn in economic activity in Hong Kong and the region.
Annual Report
The 1997 annual report will be sent to shareholders on 17th April 1998.
P D A Sutch
Chairman
Hong Kong, 13th March 1998
For further information contact:
Andrew Herdman, GM Group Public Affairs, (852) 2840-8092
Maisie Shun Wah, Manager Group Public Affairs, (852) 2840-8097
---
---
© Copyright 1996-2023 irasia.com Ltd. All rights reserved.
DISCLAIMER: irasia.com Ltd makes no guarantee as to the accuracy or completeness of any information provided on this website. Under no circumstances shall irasia.com Ltd be liable for damages resulting from the use of the information provided on this website.
TRADEMARK & COPYRIGHT: All intellectual property rights subsisting in the contents of this website belong to irasia.com Ltd or have been lawfully licensed to irasia.com Ltd for use on this website. All rights under applicable laws are hereby reserved. Reproduction of this website in whole or in part without the express written permission of irasia.com Ltd is strictly prohibited.
TERMS OF USE: Please read the Terms of Use governing the use of our website.