---
SWIRE PACIFIC LTD
1998 Interim Results

Consolidated results for the six months ended 30th June 1998 - unaudited: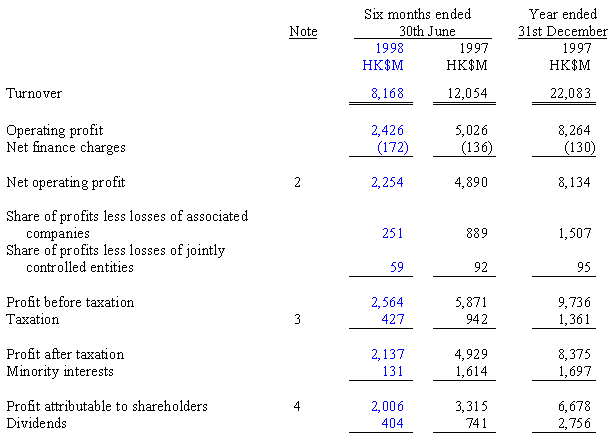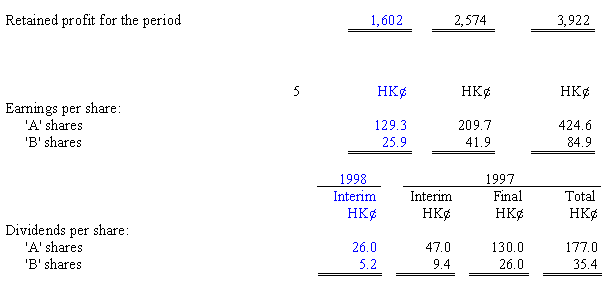 Notes
1. Basis of preparation
The interim accounts have been prepared in accordance with the principal accounting policies set out in the 1997 annual report except for the accounting policy for jointly controlled entities as set out below.
Jointly controlled entities are those entities which through contractual arrangements are subject to joint control by two or more parties, and none of the parties have unilateral control over the entities. In prior years, jointly controlled entities in which the Group had over 50% equity interest were consolidated as subsidiaries whilst jointly controlled entities in which the Group had 50% or less equity interest were equity accounted for as associated companies. With effect from 1st January 1998, in order to comply with Statement of Standard Accounting Practice No. 21 (HK SSAP21) issued by the Hong Kong Society of Accountants, all the Group's jointly controlled entities are equity accounted for, and therefore the Group's consolidated profit and loss account includes the Group's share of results of jointly controlled entities whilst in the Group's consolidated balance sheet, the investment in jointly controlled entities represents the Group's share of their net assets. The change in accounting policy has been reflected in the financial statements as a prior year adjustment and comparative figures have been restated. There is no effect on the profit attributable to shareholders; the effect on other relevant consolidated profit and loss account figures as a result of the adoption of the new policy to comply with HK SSAP21 is as follows: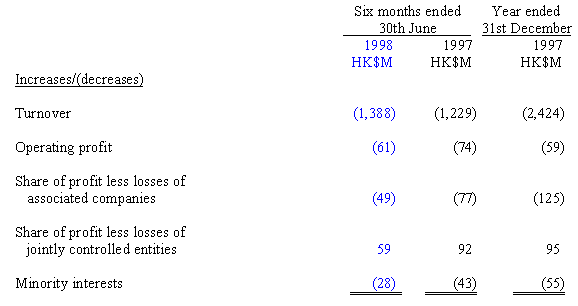 Details of the effect on the Group's consolidated balance sheet figures will be set out in the 1998 annual report.
2. Net operating profit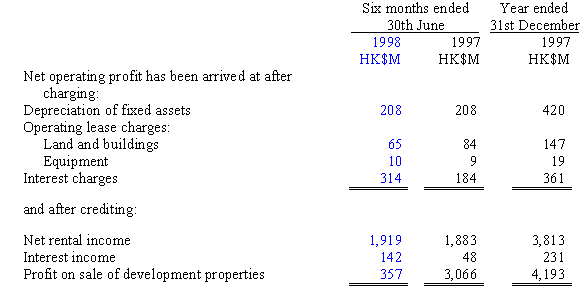 3. Taxation

Hong Kong profits tax is calculated at 16.0% (1997: 16.5%) on the estimated assessable profits for the period. Overseas taxation is calculated at rates of tax applicable in countries in which the Group is assessed for tax.
4. Profit attributable to shareholders
5. Earnings per share
Earnings per share are calculated by dividing the profit attributable to shareholders for the period ended 30th June 1998 of HK$2,006 million (1997: HK$3,315 million) by the weighted average number of 940,111,885 'A' shares and 3,059,301,271 'B' shares in issue during the period (1997: 966,219,642 'A' shares and 3,072,801,119 'B' shares).
6. Reserves (Group)

---
CHAIRMAN'S STATEMENT
Consolidated Results
The profit attributable to shareholders for the first half of 1998 was HK$2,006 million representing a decrease of 39.5% on the equivalent period in 1997. This result reflects the very difficult conditions facing most of the Group's businesses.
The property division achieved some growth in rental income from its property portfolio although the results of the division as a whole were well below those of the corresponding period last year, due to the absence of significant profits from developments for sale. Results from the aviation division were also well below those of the first half of 1997 due to the effect of the regional economic downturn and to significant competitive pressures being experienced by Cathay Pacific Airways in particular, but also being felt to varying degrees by other companies within the division. Cathay Pacific Airways suffered a small loss in the period due to declines in both load factors and yields; however, considerable progress is being made in controlling costs and increasing efficiency. Hong Kong Aircraft Engineering Company reported a decrease in operating profits due to the reduced level of air traffic at Kai Tak and pressure on operating margins. The industries division's results in the first half of 1998 were lower than those in the first half of 1997 owing to the deteriorating business environment and over-capacity in most of its businesses in Mainland China. The trading division suffered a small loss in the first half of 1998, with very tough markets for retail business in Asia and for the apparel business in the USA. Profits from the marine services division showed good growth over the equivalent period in 1997 as strong demand continued within the offshore oil support sector.
Your directors have today declared interim dividends for 1998 of HK¢26.0 per 'A' share and HK¢5.2 per 'B' share representing a decrease of 44.7% on the interim dividends paid in 1997.
Operations
PROPERTY DIVISION
Net rental income for the half-year to 30th June 1998 was higher than in the corresponding period in 1997 mainly due to additional contributions from the re-instated areas of the Cityplaza shopping centre and the Cityplaza One office tower. Income for the second half of 1998 may be marginally lower due to reduced activity in the retail sector and lower occupancies in the serviced apartments at Pacific Place.
Although Swire Properties' two major shopping centres are performing relatively well in a difficult market, there is no sign of recovery from the downturn faced by retail traders since the latter months of 1997. Office rental levels in Pacific Place are holding up well in spite of potential new supply in Central District but leasing of space in prime positions in Hong Kong East has slowed in the face of keen competition from other locations. Cityplaza One is presently 72% let, while the marketing of Lincoln House is now underway, with completion of the development expected in the second half of 1998. The recently completed 625 King's Road office tower, which is 50% owned, will also be offered for letting. Festival Walk is presently being handed over to tenants for fitting out and is expected to open in October 1998; 85% of the retail space is already leased.
A further 54 residential units in The Floridian, Sai Wan Terrace, were sold in the first half of 1998 and 28 units remain to be sold. Two office floors and six residential units in Island Place were sold in the first half-year, leaving 92 residential units to sell, plus two remaining office floors which are to be offered for leasing. 15 of the 44 residential units in Sunningdale on Sai Yee Street, Mongkok have been sold so far this year. Prices in the residential market have already fallen sharply from their mid-1997 highs but there is still keen demand for developments offered at competitive price levels.
In May 1998, a joint venture company owned by Swire Properties, Sun Hung Kai Properties and China Motor Bus in the proportions 50:30:20 was successful with a tender bid of HK$1,677 million for a residential site in Aldrich Bay with a development potential of 742,000 square feet. Work is expected to start this year for completion in 2001.
AVIATION DIVISION
The Cathay Pacific Airways group's loss attributable to shareholders for the period was HK$175 million which compares to a profit of HK$1,068 million for the equivalent period in 1997.
The environment in which Cathay Pacific Airways is currently operating continues to be extremely difficult. Turnover dropped by 16.1% on the equivalent period in 1997 to HK$12,991 million whilst capacity, measured by available tonne kilometers (ATKs), rose by 2.6%. The economic downturn has adversely affected both traffic and yields. The number of passengers carried reduced by 4.7%, which resulted in a drop in the revenue load factor by 4.4 percentage points. The overall passenger yield, which has been adversely affected by the devaluation of a number of currencies in which the airline generates significant revenue, fell by 16.9%. Cargo also showed a slight downturn as currency rates and low yields have worked against revenue growth in the Hong Kong, Europe and North America markets. However, as a result of effective cost control, cost per ATK reduced by 11.6% to HK$2.36 which helped in part to offset the revenue shortfall.
Hong Kong International Airport began operating on 6th July and more than 3,000 staff will eventually relocate to Cathay Pacific City at the new airport. Although considerable difficulties were encountered in the first weeks of opening, operations on the passenger side have now settled down.
In the first half-year, the weak travel market resulted in the cancellation of one of the daily Osaka services and the consolidation of services to Penang and Jakarta. However, demand for long-haul flights remains strong, and London, Los Angeles and Sydney are now served on a double-daily basis. A new twice-weekly A340-300 service to Istanbul will be launched in August, and a daily service to San Francisco will be resumed in December.
In April, Cathay Pacific Airways completed the refurbishment of its Boeing 747-300 fleet with new galleys, overhead bins, personal televisions in every seat, and the seat pitch in business class and economy class improved to 45 inches and 32 inches respectively. By the end of August, five Airbus Industrie A340-300s and two B777-300s will have joined the fleet; five B747-200 aircraft have been withdrawn from service and a further two will be withdrawn before the end of the year.
Hong Kong Aircraft Engineering Company reported a profit attributable to shareholders for the first half of 1998 of HK$140 million, a decrease of 21.8% from that for the same period in 1997. Revenues declined slightly as the volume of air traffic at Kai Tak reduced, and margins were under pressure as airlines sought to tighten control over operating costs. Contributions from HAECO's associated companies improved marginally, with both Hong Kong Aero Engine Services and Taikoo (Xiamen) Aircraft Engineering Company recording profits.
Relocation from Kai Tak to new facilities at Chek Lap Kok and Tseung Kwan O has been substantially completed, and the company has commenced a twenty-year combined line and base maintenance franchise at Hong Kong International Airport, operating from a single hangar capable of fully enclosing three wide-bodied aircraft, associated backshops and a dedicated area within the passenger terminal.
Air Hong Kong performed well as a result of lower costs, with exports from Hong Kong being maintained during the first half of 1998. Load factors have shown an increase of 3.5% over the same period last year.
The revenue performance of Dragonair was satisfactory, taking into account the decline in market conditions. The passenger load factor and yields dropped by 8.5 percentage points and 4.0% on 1997 respectively; however, cost savings helped to offset some of the revenue shortfall. In February, the company began services to Fuzhou. In June, Dragonair took delivery of its eighth A320, and its sixth A330 will arrive in October.
Hong Kong Air Cargo Terminals experienced significant problems following the move to Chek Lap Kok which regrettably, severely disrupted most of its operations over a ten day period. A phased recovery programme has been put in place and the company expects to be fully operational by the end of August.
The results of other companies within the aviation division were satisfactory.
INDUSTRIES DIVISION
The industries division reported lower profits than for the first half of 1997, largely due to increased capacity coming into production at a time of deteriorating trading conditions.
Swire Beverages' profits were lower in Mainland China and Taiwan due to margin growth being insufficient to cover the cost of additional facilities. Earnings from Taiwan were also depressed by the devaluation of the New Taiwan dollar. Results in Hong Kong were in line with the equivalent period last year whilst those from Swire Coca-Cola, USA declined slightly as a result of competitive trading conditions. Although the overall profitability was disappointing, progress was made in developing the business with unit case volume growth of 14% in Mainland China contributing to an average volume growth of 9% for Swire Beverages' operations.
Swire Industrial reported improved results with Swire Engineering, Swire Engineering Services and Swire Duro all making progress. Taikoo Sugar's operations were in line with those in the first half of 1997.
The results of other companies in the division were disappointing, with both the Carlsberg Brewery Hong Kong group and the Crown Can Hong Kong group reporting losses. More difficult trading conditions also adversely affected the results of Tate & Lyle Swire and ICI Swire Paints. Swire BFI Waste Services achieved satisfactory results. Schneider Swire made progress in developing its Mainland China operations. New facilities commissioned included Carlsberg's second Mainland China brewery and ICI Swire Paints' second paint factory, both of which are in Shanghai. Following a major capacity expansion at Crown Can Hong Kong's Huizhou facility, a decision has been taken to supply the Hong Kong market from this facility. Accordingly, the Hong Kong plant will cease manufacturing at the end of August 1998.
TRADING DIVISION
The results of the trading division were significantly affected by the adverse economic climate prevailing in the key markets in which the division operates. In particular, the motor vehicle trade in both Taiwan and Hong Kong has experienced a decline in new car registrations for the first half of the year and in addition, in Hong Kong, the division's sportswear distribution business has suffered from poor retail conditions.
In the USA, The Eagle's Eye continues to work on the recovery of sales revenue through ladies apparel product improvements and is restructuring the organisation to reduce costs.
On a more positive note Camberley Enterprises, engaged in the design and manufacturing of apparel, and Swire & Maclaine, buying agents, both performed well in the first half of the year.
MARINE SERVICES DIVISION
The strong demand for offshore oil-field services seen in 1997 has continued into 1998, resulting in high utilisation and charter rates for Swire Pacific Offshore's fleet. Growth has been seen with the delivery of two further 12,240 BHP anchor handling supply vessels from Ulstein Verft of Norway; the last such newbuilding was delivered in July. During the period the company placed an order with Imamura Shipbuilding Company, for four 5,400 BHP anchor handling tug supply vessels for delivery in 1999. In order to improve operational efficiency, it has been decided that Swire Pacific Offshore will assume from a sister company full responsibility for its own ship manning.
Modern Terminals has seen throughput growth of almost 20% over the same period last year, partly reflecting the decision by Orient Overseas Container Line to switch its Hong Kong terminal in January. During the same period, Shekou Container Terminals has seen growth in throughput of 120%. From 1st June, Modern Terminals has been appointed as the manager of Shekou Container Terminals, where plans are being finalised to develop two more berths.
From March, Hongkong United Dockyards concentrated its ship repair facilities on a single dock and the company is beginning to see efficiency benefits. The smaller dock was sold in May. The arrival of two new tugs at The Hongkong Salvage & Towage Company has allowed for the progressive removal of older less efficient tugs, although weakness in the intra-Asia trades has begun to impact revenue. Two new refuse disposal container ships entered service in March, bringing to six the number of such vessels being operated.
Finance
As a result of the change in accounting treatment for jointly controlled entities, referred to in note 1 to the consolidated results, various comparative figures have been amended. Shareholders' funds and minority interests at 30th June 1998 totalled HK$97,213 million (31st December 1997: HK$95,126 million) based on the independent valuation of the Group's investment properties as at 31st December 1997, and although the value of such properties will have declined during the first half of 1998, management is of the view that the extent of decline would not be such as to significantly impact the Group's financial ratios. At 30th June 1998, net borrowings were HK$16,681 million as compared with HK$12,679 million at 31st December 1997, the increase being largely attributable to further capital expenditure incurred across the divisions but in particular in enhancing the property portfolio. The Group's gearing ratio was 0.17/1 as compared with 0.13/1 at 31st December 1997. Cash interest cover in the half-year was 4.1 times (1997: 10.0 times); the reduction is attributable to the decline in profits coupled with increases in the levels of interest rates and net borrowings. The Group's available undrawn bank facilities at 30th June 1998 amounted to HK$6,603 million of which HK$4,038 million were committed facilities.
Prospects
The second half of the year will clearly be a considerable challenge, since I can see no real improvement in economic conditions in Hong Kong and the Asian region. However, the property division expects rental income to be maintained at a similar level to last year although there are unlikely to be significant profits from the sale of developments and thus the overall results will be well below those of 1997. Operating conditions will continue to be difficult for Cathay Pacific Airways. Companies within the aviation division will incur increased operating costs following the move to new facilities at Hong Kong International Airport at Chek Lap Kok which will contribute to some downturn in profitability. The results from operations of the industries and trading divisions should be better in the second half-year, whilst the strong performance of the marine services division is expected to continue.
Despite the adverse environment in which it is operating, the Swire Pacific Group remains in a sound financial position and I have confidence in its longer term prospects.
P D A Sutch
Chairman
Hong Kong, 6th August 1998
---
Year 2000
The Year 2000 ("Y2K") or millennium date change issue has arisen because many computer systems and electronic devices which store date information based on a two-digit year sequence are unable to accurately process dates for the Year 2000 and beyond. The problem affects IT and all other systems and equipment that rely on embedded electronic chip technology. It has the potential to impact on any business that does not take adequate steps to upgrade or replace non-compliant systems, guard against third-party risk from critical suppliers or customers, and manage its risk-exposure through the development of comprehensive contingency plans.
Recognising that this is first and foremost a business problem, the Swire Pacific Group is addressing the millennium date change issue as a matter of priority. Sponsored by Swire Pacific's Chairman, and reporting to a central steering committee, the Swire Group Y2K Programme Office is working with external consultants to monitor progress towards Y2K readiness on a Group-wide basis. In addition, each operating company within the Group has set up its own Y2K project, with dedicated resources, to address the millennium issue. The Programme Office provides co-ordination and guidance for these individual focused projects.
The Group as a whole aims to achieve Y2K readiness for its business-critical systems by March 1999 and compliance by June 1999. This will leave a reasonable lead time for anomalies to be addressed in advance of the millennium, with the objective that neither the performance nor function of the Group's key business assets will be materially affected by the date change.
Y2K readiness will have been achieved when an inventory of all relevant equipment and systems (that is all business-critical IT systems and equipment relying on embedded electronic chips failure of which to operate in a manner unaffected to a material extent by the date change at Year 2000 would have a material adverse effect on the business or operations of the Group) has been made; such equipment and systems have been assessed and tested for potential Y2K problems identified by the relevant project team and a course of action relating to any identified problems has been decided upon and the equipment or services required to implement this have been ordered or arranged. Critical suppliers of such equipment and systems will have been audited for Y2K compliance and compliant alternates identified for those suppliers that are deemed unlikely to achieve Y2K compliance in time. Group companies aim to have business contingency plans in place to apply in the event of disruptions caused by system or equipment failure or third party non-compliance.
Having achieved readiness, Swire Pacific aims to achieve Y2K compliance by June 1999. By this we mean, in relation to our own relevant equipment and systems, the modification or replacement of all such equipment and systems that fail our Y2K compliance test and, in respect of suppliers of such equipment and systems, we mean that all critical suppliers will have passed our Y2K compliance audit, or have been replaced by those that have.
The Group first began to address Y2K issues in 1996, and an element of remedial expenditure has been avoided because Swire Pacific has been able to implement the replacement of systems and equipment as part of regular and budgeted enhancements to its business systems. The move of a number of key Group companies' headquarters during 1998, has provided a further impetus to these enhancements. For the period ended 30th June 1998, the Group has spent HK$10 million in replacing systems with upgraded versions, the vendors of which have represented as being Y2K compliant. The cost of these new assets has been capitalised in the accounts. The aggregate of the costs to achieve Y2K compliance has not yet been ascertained. Costs of the Y2K programme are expensed as a revenue item in the Group accounts as and when incurred. HK$3 million has been charged in the accounts for the six month period ended 30th June 1998. As at 30th June 1998, HK$8 million had been contracted but not provided for in the accounts for the six month period ended on that date, and a further HK$22 million had been authorised but not contracted for in respect of the Y2K programme.
Share capital
During the period under review, the Swire Pacific Group did not purchase, sell or redeem any shares in Swire Pacific Limited.
Interim dividends
Interim dividends of HK¢ 26.0 (1997: HK¢47.0) per 'A' share and HK¢5.2 (1997: HK¢9.4) per 'B' share have today been declared payable on 5th October 1998 to shareholders registered at the close of business on 18th September 1998; the share registers will be closed from 14th September 1998 to 18th September 1998, both dates inclusive.
For further information, please contact:
Mr. Andrew Herdman: 2840-8092
Ms. Maisie Shun Wah: 2840-8097
---
---
© Copyright 1996-2023 irasia.com Ltd. All rights reserved.
DISCLAIMER: irasia.com Ltd makes no guarantee as to the accuracy or completeness of any information provided on this website. Under no circumstances shall irasia.com Ltd be liable for damages resulting from the use of the information provided on this website.
TRADEMARK & COPYRIGHT: All intellectual property rights subsisting in the contents of this website belong to irasia.com Ltd or have been lawfully licensed to irasia.com Ltd for use on this website. All rights under applicable laws are hereby reserved. Reproduction of this website in whole or in part without the express written permission of irasia.com Ltd is strictly prohibited.
TERMS OF USE: Please read the Terms of Use governing the use of our website.